Humanitarian Aid in Haiti
Relief after Hurricane "Matthew"
After Hurricane "Matthew" destroyed large parts of Haiti in Ocotber 2016, the ASB team in Haiti as well as relief experts from ASB Germany help the people in need.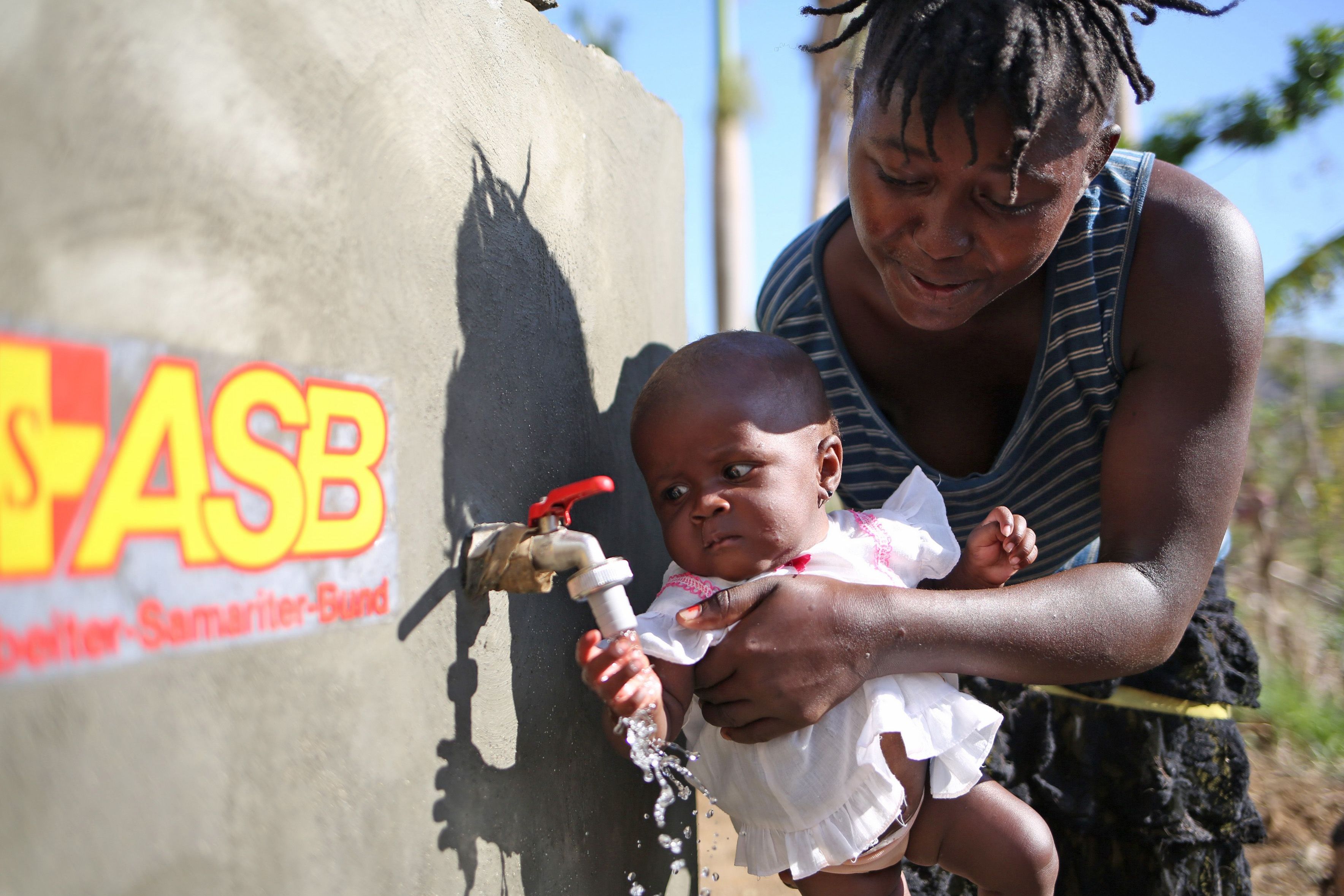 Hurricane "Matthew" has left enormous destructions in large parts of Haiti. More than 750.000 people are in need of help. The ASB team has started relief measures directly after the tropical storm was over and distributed food and safe drinking water to families in Petit-Goâve. Relief experts of ASB in Haiti as well as German project coordinators are currently reaching out to those regions in the South-West of the country that have been most severly hit and are preparing further relief.
ASB is calling for donations
If you want to support our Humanitairan Aid after Hurricasne Matthew in Haiti, please donate now!
ASB offers Sphere-Training in Port-au-Prince on 13th October
The Sphere Handbook, Humanitarian Charter and Minimum Standards in Humanitarian Response, is one of the most widely known and internationally recognized sets of common principles and universal minimum standards in life-saving areas of humanitarian response. The training will submit standards of quality and accountability towards the affected communities and will be held by ASB-relief expert and Sphere-trainer Axel Schmidt.
When: Thursday 13th October, from 14:00 till 17:00h
Where: exact venue will be communicated asap
Target audience: all humanitarian workers with no or insufficient knowledge on Sphere
Background Information: about Sphere (including free download of the Handbook, Videos etc.)http://www.sphereproject.org/
Introductory Video: https://www.youtube.com/watch?v=7S28v47YBfA
Handbook French (free download): http://www.sphereproject.org/resources/download-publications/?search=1&keywords=&language=French&type=0&category=22
Handbook Haitian Creole (free download):
http://www.sphereproject.org/resources/download-publications/?search=1&keywords=&language=Haitian+Creole&category=22&subcat-22=0&subcat-29=0&subcat-31=0&subcat-35=0&subcat-49=0&subcat-56=0&subcat-60=0&subcat-80=0
The Training: The training will be facilitated by a field experienced Sphere trainer. "Normal" Sphere introduction trainings are two days long. This will be an improvised interactive training aiming to enable participants to use the powerful tool the next day in the field or in the office for all stages of the project circle to ensure a right to a life with dignity for affected people.
Register/Apply: Please register yourself with your name and organisation in the following KoBo-questionnaire: https://ee.kobotoolbox.org/x/#Y01M
or send an e-mail.
Preparation before: Please read at least the HUMANITARIAN CHARTA of the Sphere Handbook. You can download the full handbook for free at: www.sphereproject.org
Questions: please contact Axel Schmidt: +491732839756, a.schmidt@asb.de
Certificates will be provided!