Voluntary Services
Voluntary Social Service Year / Federal Volunteer Service
A Voluntary Social Service Year is a year full of personal education, social commitment and professional orientation. As volunteers, you support our full-time staff in their work and gain extensive practical experience in a wide variety of social work areas.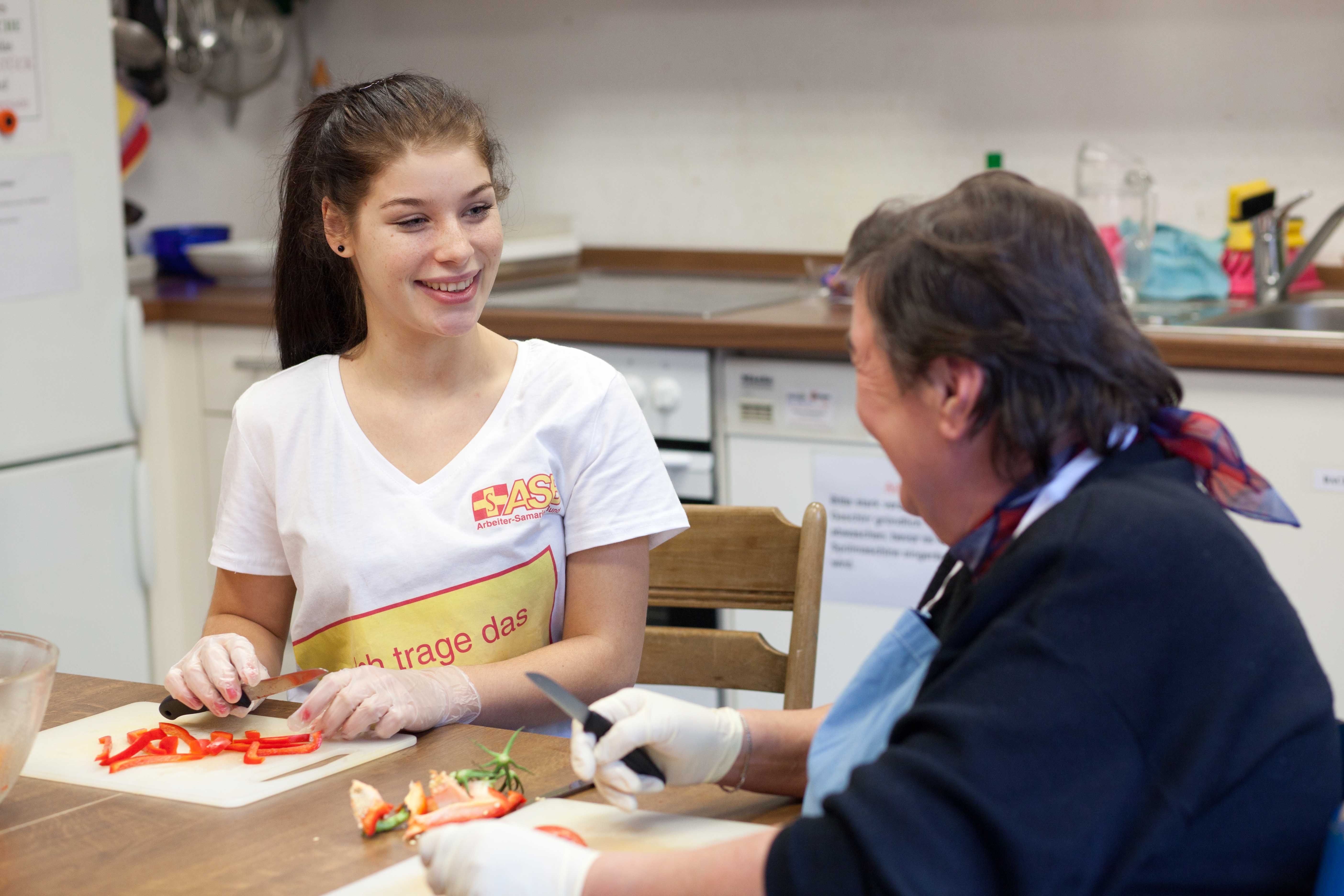 You get a first idea of the daily working life and have the opportunity to deepen your interests and discover personal strengths.
Potential employers place great value on applicants' voluntary commitment and it can therefore increases your chances of finding a training course or working place. It can also have advantages when applying for universities or colleges.
In general the volunteer services are open to all young people who have completed their full-time schooling and who are at least 16 but not older than 26 at the beginning of the service. It is different with the Federal Voluntary Service which is open to all ages.
Typically the voluntary service period is 12 months. However, you can also shorten the service to six months or extend it to 18 months. As volunteer you have a holiday entitlement of at least 24 days within a 12-month service period. FSJ / BFD volunteers under the age of 27 have to work work full-time, BFD Volunteers older than 27 have to work for at least 21 hours a week.
Who can participate?
Young people and young adults between the ages of 16 and 26 can do a FSJ or a BFD / people over 27 can only do a BFD.
Gender, religion, type of school leaving certificate or nationality are not important.
Both services are open to foreigners already living in Germany and to people who come here specifically for this purpose ("incomers").
It is not necessary to have any professional or special training to become a volunteer in Germany, but you should have a good basic knowledge of German, not less than level A1 or A2.
What we offer you
Our Voluntary Services offer you the opportunity,
to take responsibility
to develop you further
to get to know social professions
to help to shape the society
and to experience community

Furthermore
you receive a monthly pocket money
we take over the contributions for the statutory social insurance for you
you have a holiday claim
during your Voluntary Service, you will be accompanied by the staff of the accredited agency (=Träger) and the staff of the places of assignments (=Einsatzstellen)
you attend at least 25 training days (for a period of twelve months) and
you will receive a testimony for the recognition of practice periods for a study or an training as well as
a qualified testimony in the end of your Voluntary Service
Training days
The seminars are an integral part of a Voluntary Service and are required by law. Therefore: The training days are working time - you cannot take a holiday during the seminars!
During a twelve-month FSJ / BFD, you participate in at least 25 training days, which are mainly designed as seminar weeks. If you provide a Federal Voluntary Service, five of them are reserved exclusively for a political education seminar at a federal education center.
Instead of listening to lectures for hours, your active participation is required in the seminars! You will meet other volunteers in the trainings and share your experiences and discuss current social issues. You will be dealing with topics that concern your practical work, but also have the opportunity to develop yourself on a personal level. In the seminar groups you can also be creative, and to have fun in the joint activities and excursions is the first priority!
Application / Contact
If you would like to apply for an FSJ or a BFD, please contact one of our Voluntary Social Service agencies (in Germany called "Träger") who are also contact persons for the BFD. The Voluntary Social Service agencies will inform you about the possible fields of application, the framework conditions and the application procedure.
Attached you can find the contact list of the ASB Voluntary Social Service agencies.
If you want to get involved in a Voluntary Service in Germany, you must ensure that you are allowed to stay during the voluntary service in Germany.
As a European citizen, you do not need a visa or a residence permit. If you are not a citizen of the European Union, you need a visa to become a volunteer in the Volunteer Services FSJ or BFD in Germany.
You must apply for this in your home country at the German Embassy or the German Consulate before you enter Germany. This visa must be issued particular for a Voluntary Service, a visa for a study or for an au pair period is not permitted.
Usually relevant documents concerning your purposed activities (e.g. FSJ/BFD agreement) and also documents relating your intended accommodation in the Federal Republic of Germany (e.g. tenancy agreement, letter of motivation etc.) have to be submitted. As the income from FSJ/BFD will not cover all the expenses you often have to prove how you will finance the long stay in Germany (e.g. through regular support from your parents).
Please note that the admission of a Volunteer Service will change your residence and you will be required to apply for a new visa at the foreigners' office which is responsible for you, if you are already an au pair in Germany. Some foreigners' authorities waive the entry and departure of the volunteers by submitting a voluntary service contract and proof of the secure financing of the further stay in Germany and issue a corresponding visa. Unfortunately, this procedure is at discretion of the Authority. It is therefore quite possible that you have to leave Germany and then apply for a visa at the German embassy in your home country for a Voluntary Service.
Please note that ASB is normally not able to provide accommodations for the volunteers!
For detailed information on how to apply for a visa, please visit the following website: http://www.pro-fsj.de/de/informationen-f%C3%BCr-menschen-aus-dem-ausland.
The staff of the foreigners' office at your current place of residence will certainly be happy to provide you with information, too.
Contact:
Arbeiter-Samariter-Bund Deutschland e.V.
Bundesgeschäftsstelle Köln
Referat 2.3 Freiwilligenengagement
Sülzburgstraße 140
50937 Köln
E-Mail: freiwilligendienste@asb.de